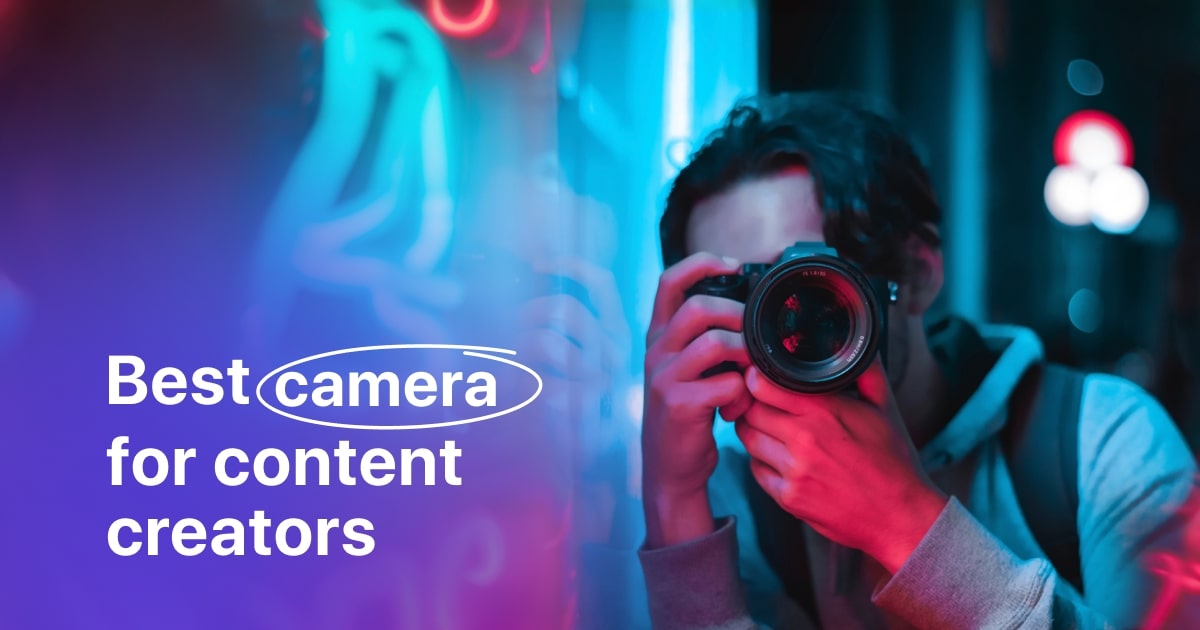 Now, let's be honest: keeping up with the ever-changing TikTok trends can be quite a challenging task, right? It seems like trends have a shorter lifespan these days than a mayfly, leaving you constantly scrambling for the next big trend to wow your audience.
But fear not! While predicting future trends may be tricky and almost impossible, one thing you can always count on is the quality of your gear, especially your camera!
With a sea of cameras flooding the market, this article is your guiding star to the top cameras for your TikTok videos. So, without further ado, let's dive right into the ones that will elevate your TikTok game!
Features to look for when choosing a camera for social media
When selecting the best camera for content creators for social media, whether you're a content creator, influencer, or just looking to up your online game, there are several key features to consider. These features will help you capture high-quality content that stands out in the crowded digital landscape. Here's what to look for:
Resolution: Opt for a camera with high resolution, preferably 1080p (Full HD) or 4K (Ultra HD), to ensure your videos and images are crisp and clear.
Low-Light Performance: Good low-light performance is essential for shooting in various conditions, especially indoors or during nighttime.
Auto-Focus & Image Stabilization: Fast and accurate autofocus ensures your subjects stay sharp, even if they're moving. Built-in stabilization reduces shaky footage, providing smoother, more professional-looking videos.
Flip Screen & External Inputs: A flip-out or articulating screen is handy for framing shots when you're in front of the camera, allowing you to see yourself while recording. Quality audio is crucial when choosing the best camera for influencers. Look for a camera with a microphone input for attaching an external mic for improved sound quality.
Connectivity: Ensure the camera has Wi-Fi or Bluetooth capabilities for easy file transfer to your smartphone or computer.
Compact Size: For on-the-go content creation, consider a compact and portable camera that won't weigh you down.
Interchangeable Lenses: Cameras with interchangeable lenses provide versatility and allow you to adapt to different shooting scenarios.
Settings & battery life: Having control over exposure settings like aperture, shutter speed, and ISO is valuable for achieving the desired look. Look for a camera with decent battery life to avoid frequent recharging or swapping batteries.
Durability & Price: Cameras that can withstand various weather conditions and occasional bumps are essential for outdoor shooting. Consider your budget and choose a camera that offers the best value for your needs. Keep in mind that lenses and accessories can add to the overall cost.
Brand and Ecosystem: Consider the brand's ecosystem, as it may affect your choice of lenses, accessories, and future upgrades.
Reviews and Recommendations: Seek advice from fellow content creators and read reviews to gauge the camera's performance and reliability.
By considering these features, you can choose the best camera for content creators that aligns with your social media goals and helps you create engaging and high-quality content that resonates with your audience.

5 best budget cameras for content creators and influencers
Here are some of the Best cameras for content creators and influencers:
The Sony ZV-1 is a game-changer for social media content creation, especially for TikTok enthusiasts.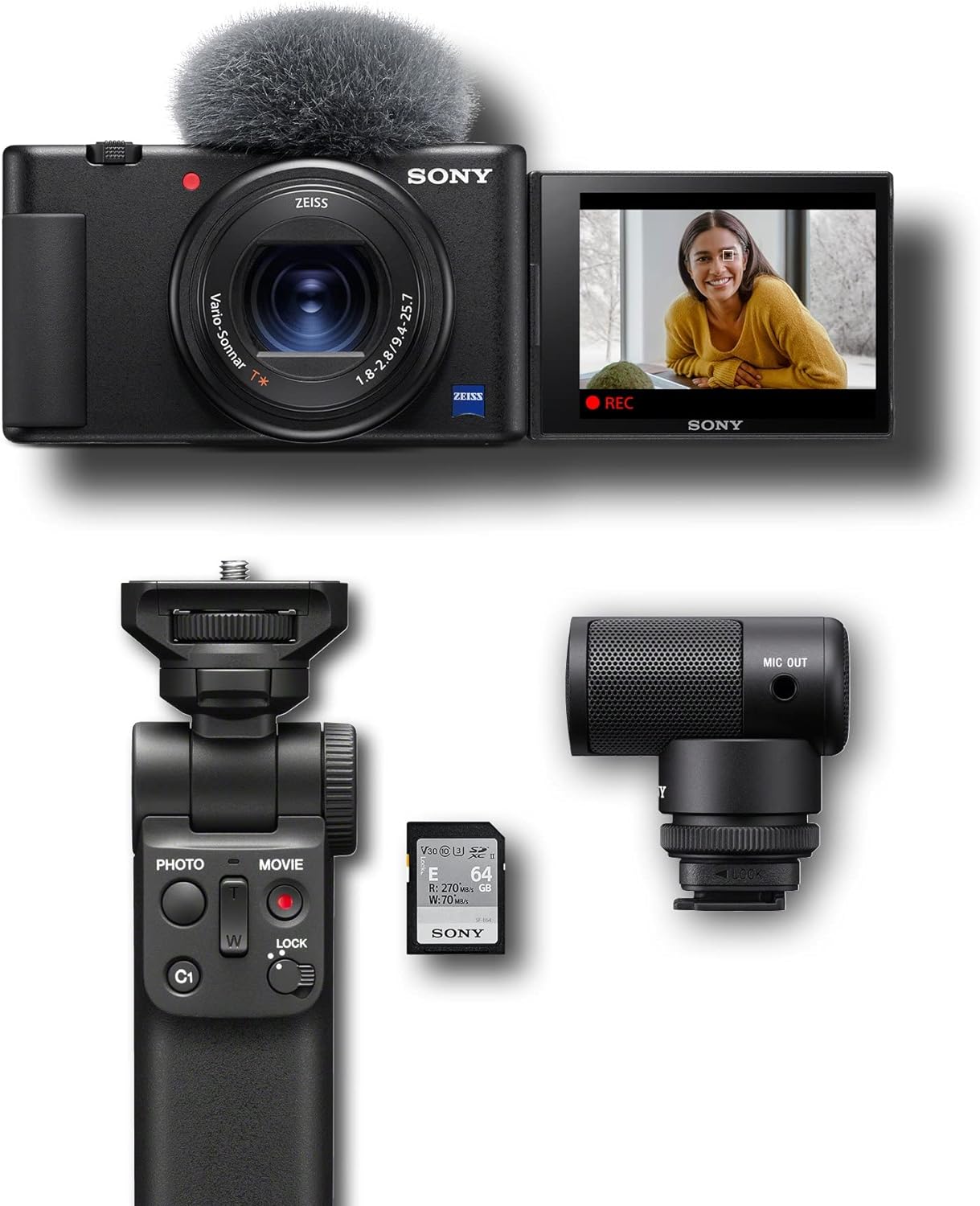 With its:
Powerful 20.1MP sensor,
fast autofocus features
exceptional audio capabilities,
it's a dream come true for vloggers and creators. The included Vlogger Accessory Kit and wireless Bluetooth control make it an all-in-one package for producing top-notch content effortlessly.
The Canon EOS M200 is one of the best camera for influencers.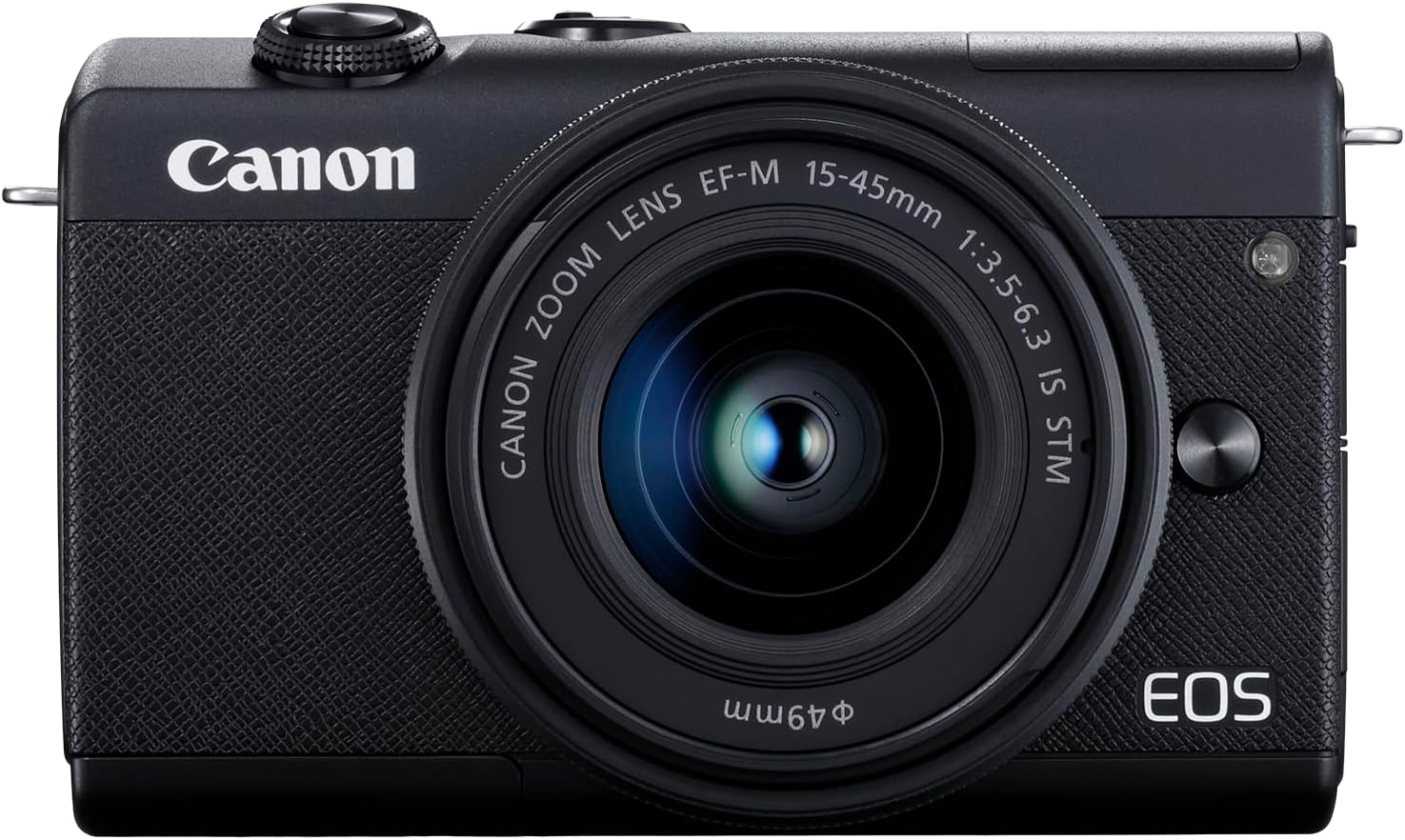 easy-to-use interface
the 24.1 Megapixel CMOS sensor ensures high-quality images
4K video recording, while the Dual Pixel CMOS AF with eye detection makes focusing fast and accurate.
its 180° tilting touch screen and built-in Bluetooth and Wi-Fi technology make it a versatile and convenient choice for all your creative needs.
The DJI Pocket 2 is an amazing choice for lifestyle vloggers.

Weighing just 116 grams
offering up to 140 minutes of battery life, it's incredibly portable and ready to capture moments on the go.
With its 3-axis gimbal stabilization, 64MP photo capability, and 4K video recording, it delivers high-quality content, even in challenging conditions.
Plus, the AI Editor and Glamour Effects make editing and sharing your shots a breeze, making it the perfect companion for those seeking to create captivating content for social media.
While this camera is fantastic for live vlogs and travel content, it's not my go-to choice for other types of videos. It's not designed for those purposes, and it can produce an odd overall image if, for instance, you attempt to create beauty-related content with it.
The Canon EOS Rebel T7 is an excellent choice for aspiring TikTok creators seeking a pro-level camera without breaking the bank.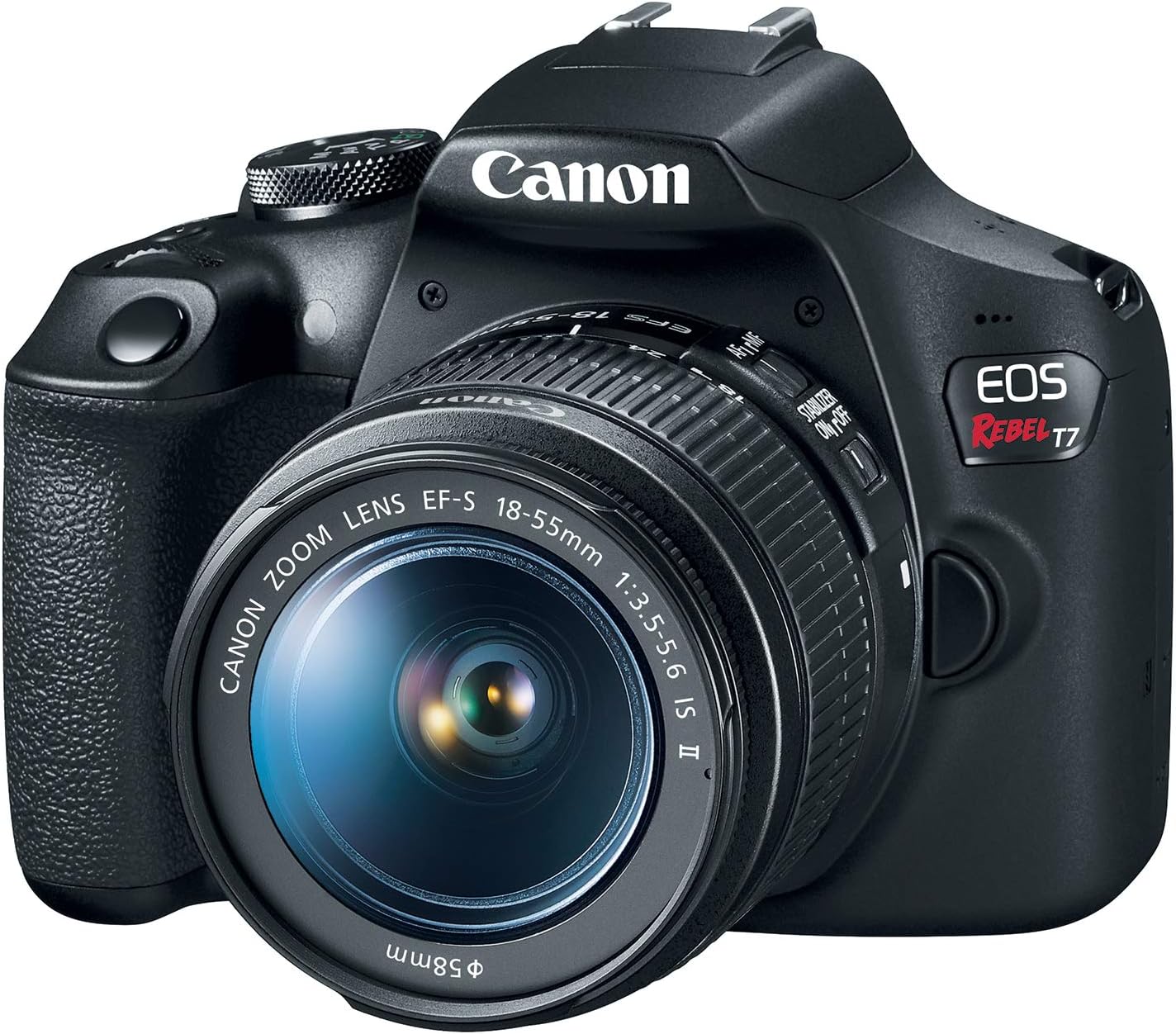 24.1 Megapixel CMOS sensor, you can capture high-quality content with ease.
The built-in Wi-Fi and NFC technology allow for seamless connectivity and sharing, while the 9-Point AF system and AI Servo AF ensure your subjects are always in focus.
You can use the EOS Utility Webcam Beta Software to transform this budget-friendly camera into a high-quality webcam for professional-looking TikToks. It's a versatile and cost-effective solution for content creators looking to up their game.
For those looking for a straightforward and reliable camera without delving into technical details, the Minolta Pro Shot 16 is the best camera for beginner content creators.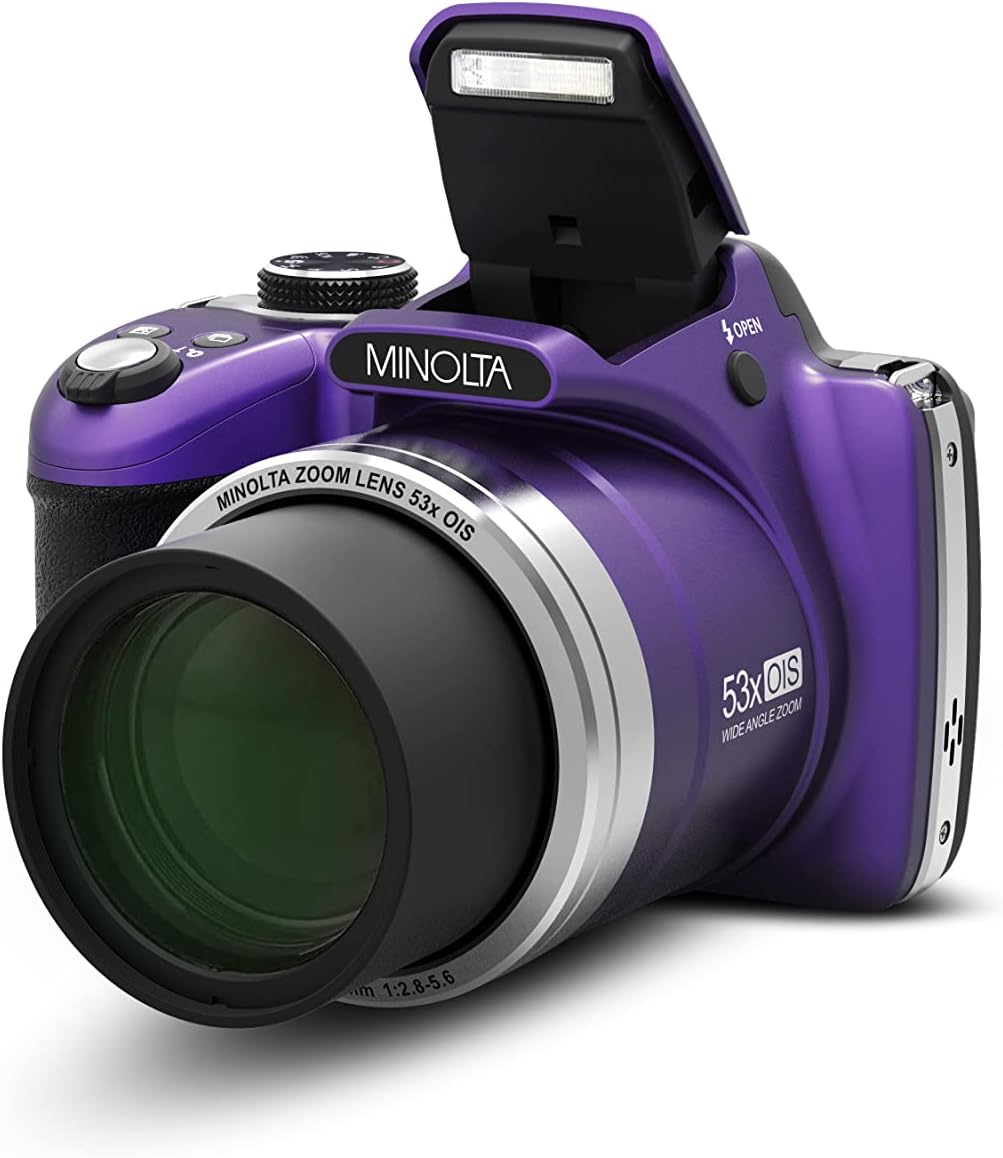 With a 16-megapixel CMOS sensor and 53x Optical Zoom, it captures sharp images and Full HD (1080p) video effortlessly.
Its user-friendly features like 14 scene modes, face detection, smile detection, and blink detection
Optical image stabilization and HDR make it a simple yet effective tool for producing high-quality content. Whether you're a beginner or just want a hassle-free camera for internet videos, the Minolta Pro Shot 16 has you covered.
It's important to keep in mind that while the Minolta Pro-Shot 16 is an excellent budget option for beginners if you have more professional photography needs in mind, this might not be the right choice for you.
FAQ
1. Are mirrorless or DSLR cameras better for TikTok videos, and why?
Both mirrorless and DSLR cameras can produce high-quality TikTok videos, but the choice depends on your specific needs and preferences. Mirrorless cameras are often more compact and lighter, making them more portable and suitable for vlogging. They also excel in video autofocus, offering fast and accurate tracking of subjects, which is crucial for TikTok. DSLR cameras, on the other hand, tend to have longer battery life and offer a wider range of lenses, allowing for more creative flexibility. Ultimately, the best choice depends on your budget, intended use, and personal preferences.
2. What is the ideal budget range for a camera for TikTok content creation?
The ideal budget for a camera for TikTok can vary widely depending on your goals and resources. You can find capable cameras for TikTok content creation in the range of $300 to $1,000 or more. Entry-level DSLRs, mirrorless cameras, and even some advanced compact cameras fall within this range. Consider your specific needs, such as video quality, portability, and additional features, when determining your budget.
3. How important is image stabilization for TikTok videos, and do all cameras offer this feature?
Image stabilization is crucial for TikTok videos because it helps reduce shaky footage, resulting in smoother and more professional-looking content. Many cameras, both DSLRs and mirrorless models, offer built-in optical or digital image stabilization systems. However, not all cameras have this feature, so it's essential to check before making a purchase. For handheld shooting and vlogging, having effective image stabilization can significantly enhance the quality of your TikTok videos.
4. Are there any must-have accessories or lenses that can enhance the quality of TikTok videos when using a camera?
Yes, there are several accessories and lenses that can improve the quality of TikTok videos when using a camera:
Tripod or gimbal: These stabilize your camera and prevent shaky footage, especially during handheld shots.
External microphone: Better audio quality is essential for engaging TikTok content, so consider an external microphone for improved sound.
Wide-angle lens: A wide-angle lens can help capture more of your surroundings, which can be beneficial for storytelling and creative shots.
ND filter: Neutral density filters allow you to control exposure and achieve the desired cinematic look, especially in bright lighting conditions.
Lighting equipment: Proper lighting can significantly enhance your video quality, so investing in lighting kits or ring lights can be beneficial.
These accessories can vary based on your specific needs and shooting style, but they can make a significant difference in the quality of your TikTok content.

Conclusion
While predicting the next viral dance or challenge might be a challenging feat, ensuring that your videos are visually stunning and well-produced is entirely within your control. In this article, we've taken you on a journey through the best camera for content creators, offering a roadmap to elevate your online presence.
We've explored:
Essential features to look for when selecting a camera for social media, from resolution to connectivity, ensuring that you have all the tools necessary to create standout content. With these features in mind, you can make an informed decision that aligns with your creative goals.

Introduced you to five fantastic cameras, each with its own set of capabilities and advantages, catering to various budgets and preferences. Whether you're looking for portability, ease of use, or pro-level performance, there's a camera on our list that's sure to fit your needs.

We've addressed some of the burning questions that often arise when selecting a camera for social media, from the age-old debate of mirrorless versus DSLR to the importance of image stabilization and the accessories that can take your content to the next level.
In this ever-evolving landscape of digital content creation, your camera is your trusted companion. It's the tool that helps you tell your story, express your creativity, and connect with your audience.